PRESS RELEASE
Building CO2 permeation tester
CO2 flow through membranes, floors, building products and systems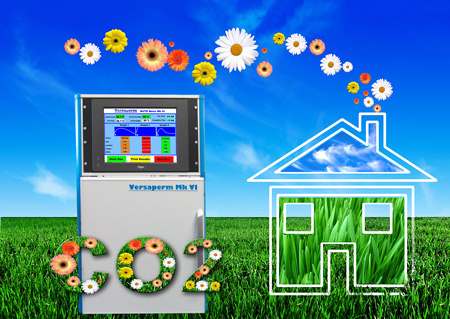 Click on the image to download a print quality scan
CO2 flow (permeability) needs to be controlled through all parts of all buildings, but especially floors, cellulose-insulated wall structures without vapour barriers, concrete buildings, for the CO2 balance of air in bedrooms or overcrowded spaces and as a guard against soil capping.
To resolve these CO2 issues Versaperm has introduced a dedicated CO2 permeation tester for testing building membranes, structures, products and coatings including paint.
CO2 levels in buildings typically range between 350 and 1000 ppm (Parts Per Million) which is up to three times higher than the outdoor air (250-350 ppm) and easily reach into the drowsy-making regions (1-2k ppm).  Levels above this can cause poor concentration and headaches.
The Versaperm equipment is fast, accurate, easy to use and reliable with accuracies typically in the parts per million range (PPM), parts per billion (PPB) can be achieved for some materials and vapours. 
The system can also, optionally, test over diurnal and seasonal cycles as well as under a wide range of environmental conditions. Measurements are typically run for long enough for the vapours to establish a steady state which depends on the temperature, the material and sample thickness, but is typically around 24 hours.
Failure to manage the vapour flow into and out of buildings has been shown to be linked to dust mites, asthma and allergies as well as the collapse of buildings.
Versaperm is a world-technology leader and offers, as well as the equipment, a technical consultancy and a fast turn-around building products lab testing service for companies with an infrequent need for testing. 
ENDS
Please send any sales enquiries to
Versaperm Ltd: 10 Rawcliffe House, Howarth Road, Maidenhead, Berkshire, SL6 1AP, UK,
e.mail: info@versaperm.com Web: www.versaperm.com
UK Tel: +44 (01628) 777668
USA Tel +011 (617) 500-8607
For Further Press Information please contact:
Gerry Palmer @ the Palmer & Rose Partnership
Tel 01494 637499 
e.mail gerry@palmer-rose.co.uk