Permeability Dangers in Tubes and Piping used in Petroleum, O2,
Anaesthetic, Engineering, Medical, Pharmaceutical and Other Industries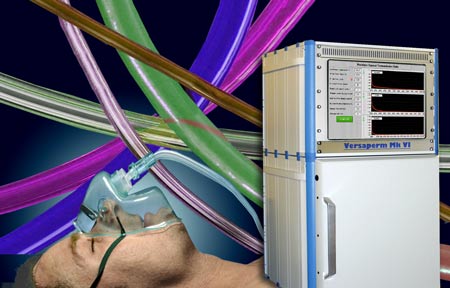 Click on the image to download a print quality scan
Tubes and piping leak.  Not just where you expect them to, but the gasses "permeate" both in and out through the material of the tube itself. This has caused missiles crash, patients to be given contaminated anaesthetic and has even made fuel cans explode in the laboratory.
For safety, legislation and quality reasons, permeability leader Versaperm has introduced a highly sensitive new instrument that can determine this "vapour permeability" for a wide range of gasses, including O2, Nitrogen, Anaesthetic gasses, Hydrocarbons and water vapour.
As well as measuring this for tubes and piping, the equipment can be configured to measure permeability for flat material samples, finished components, seals, equipment and even packaging.
The Versaperm meter can give results in as little as 30 minutes for some gasses. Conventional gravimetric measurement takes days or even weeks and is significantly less accurate and repeatable. 
The new instrument is simple to use, offering highly automated computerised control.  It can be configured to cope with several samples at a time, giving results that may be as accurate to a few part per million (with some samples a few parts per hundred million).
Versaperm also offers a laboratory testing service for companies who test too few samples to make the purchase of equipment viable.
ENDS
Please send any sales enquiries to Christopher Roberts, Versaperm Limited ,
10 Rawcliffe House, Howarth Road, Maidenhead, Berkshire, SL6 1AP, UK, Tel: +44 1628 777668,
e.mail info@versaperm.co.uk Web http://www.versaperm.co.uk
For further Press Information please contact Gerry Palmer @ the Palmer & Rose Partnership. Tel 01494 637499, fax 0871 900 3898 e.mail gerry@palmer-rose.co.uk.