Pharmaceuticals, Shelf Life & Contamination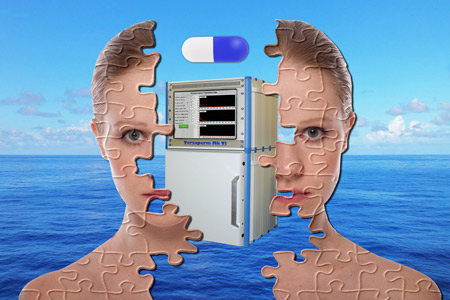 Click on the image to download a print quality scan

Not only do drugs lose potency over time but contamination increases. Both are caused by water vapour and gases seeping through the fabric of the packaging.  This "vapour permeability" can slash shelf life, no matter whether you are dealing with a single tablet in a unitary dose (blister) pack or an asthma inhaler.  The contamination of sterile-wrapped products such as syringes and dressings also depends on the pack's permeability.  To improve the life of these products this permeability needs to be checked, measured, quality controlled and improved.
Technology leader Versaperm has introduced a new multi-chamber instrument for the pharmaceutical industry to do just this – and it works equally well on finished products  such as capsules, bottles, tubs, sachets, plastics, foils, laminates, inhalers and on goods-inwards material samples. 
Versaperm's permeability measurement system can determine vapour permeability, quickly, accurately and with minimal operator training.  Yet it is typically accurate to a few Parts Per Million or better (Parts Per Billion for some materials and gasses). 
It can measure the vapour permeability of almost any material against almost any gas/vapour and, unlike conventional gravimetric measurements, which take days or even weeks, it can produce results in as little as 30 minutes for some materials.  This speeds the never-ending quest for effective packaging with new marketing and technical features. 
The new instrument can cope with several samples at a time.  However, for companies who test too few samples to make the purchase of equipment viable, Versaperm offers a fast turnaround laboratory testing service.
ENDS
Please send any sales enquiries to Christopher Roberts, Versaperm Limited ,
10 Rawcliffe House, Howarth Road, Maidenhead, Berkshire, SL6 1AP, UK, Tel: +44 1628 777668,
e.mail info@versaperm.co.uk Web http://www.versaperm.co.uk
For further Press Information please contact Gerry Palmer @ the Palmer & Rose Partnership. Tel 01494 637499, fax 0871 900 3898 e.mail gerry@palmer-rose.co.uk.