Soggy Paper Doesn't Print Well
- Printing, Packaging And Permeable Coatings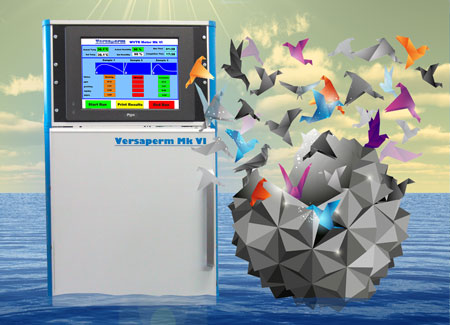 Click on the image to download a print quality scan
Paper, card and packaging are among the most useful products that exist. The uncountable breadth of their applications is due, at least in part, to the vast array of properties that they can achieve with different coatings and constructions - from electrical conductivity to physical strength and from novel finishes to jam-free running.
The main physical characteristic of a coating is its vapour permeability and Versaperm's recent design developments give users the ability to measure this with unprecedented ease and high accuracy.
Measuring permeability with the new equipment, either for product development or quality control, now takes from just 30 minutes to achieve a PPM (Parts per million) accuracy for some coatings. The equipment can be configured for readings not just with respect to water vapour but to almost any commonly used gas or vapour, including oxygen, CO2, hydrogen, nitrogen, hydrocarbons, solvents and volatiles.
Permeability controls not just the "feel" of the finished product, but also how printable it is, its strength, mechanical handling, barrier properties and many other characteristics. Small changes to a coating's composition can lead to substantial changes to the properties of the finished product.
As well as manufacturing the instruments, Versaperm offers laboratory and consultancy services for companies that only need to test samples on an irregular basis.

ENDS

Please send any sales enquiries to Christopher Roberts, Versaperm Limited ,
10 Rawcliffe House, Howarth Road, Maidenhead, Berkshire, SL6 1AP, UK, Tel: +44 1628 777668,
e.mail info@versaperm.co.uk Web http://www.versaperm.co.uk
For further Press Information please contact Gerry Palmer @ the Palmer & Rose Partnership. Tel 01494 637499, fax 0871 900 3898 e.mail gerry@palmer-rose.co.uk.