PRESS RELEASE
Seepage of Water & Fuel in Rockets & Military Hardware ….and Planes, Tanks, Satellites & Trains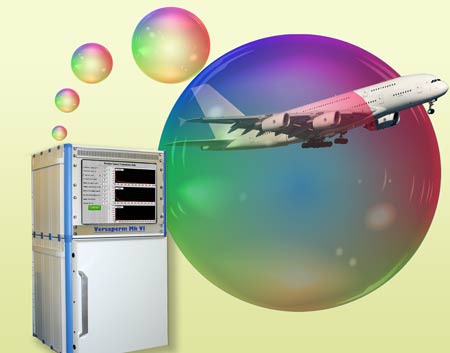 Click on the image to download a print quality scan


Water, fuels and compressor gasses, including hydrocarbons, can cause all sorts of mission-critical military or aerospace problems when they get into the wrong places – and the vapours they create have the ability to permeate through the actual walls of any pipe, tank or enclosure.  Temperature and pressure magnify the problem and getting things wrong can be disastrous.  
Versaperm's latest permeability measurement system can determine this rate of flow (permeability) through both the multiple materials used in the manufacture of cars, planes, trains, satellites & rockets as well as in finished components and enclosures themselves.  The equipment is fast, very accurate and typically gives results in the Parts Per Million (PPM) range, it offers parts per billion accuracies for many vapour/ material combinations.
The system can produce results in as little as 30 minutes for some materials, whereas conventional testing take days or weeks and is usually less reliable.   Vapour can have a catastrophic effect on electronics and other systems and can even compromise the safety of the vehicle or system.  Measurement for some vapours is a legal requirement in most countries.
As yet another bonus, the system is computerised and easy to use requiring, at most, minimal training.  It can optionally be used to test not just hydrocarbons and water vapour, but almost any other gas or vapour combination.                                                                                                 
Versaperm also offers a quick turnaround laboratory based permeability measuring service for companies that test too few samples to make the purchase of equipment viable.  Getting water or oil in the wrong places is a safety-critical event and can be catastrophy/
ENDS

Please send any sales enquiries to Christopher Roberts, Versaperm Limited ,
10 Rawcliffe House, Howarth Road, Maidenhead, Berkshire, SL6 1AP, UK, Tel: +44 1628 777668,
e.mail info@versaperm.co.uk Web http://www.versaperm.co.uk
For further Press Information please contact Gerry Palmer @ the Palmer & Rose Partnership. Tel 01494 637499, fax 0871 900 3898 e.mail gerry@palmer-rose.co.uk.