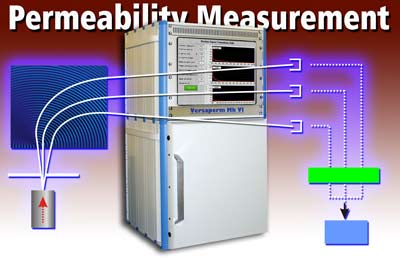 <>
Click the photo to download a print quality copy of the image

Versaperm, a technology leader in the precision measurement of permeability, has introduced yet another detector to its expanded sensors range for laboratory-based permeability measurement. The new Mass Spectrometry sensors can measure the permeability to an extremely high sensitivity under a wide range of conditions for almost all materials and gases, including water and hydrocarbon based vapours, O2, CO2, H and He.
Permeability determines how a vast range of products and materials perform in real-world situations. It determines everything from the shelf-live of fresh food and pharmaceuticals through to the jamming of paper in photocopiers, and from the quality of printing to how wind-proof your clothes are!
Using the new mass spectrometer sensors, Versaperm equipment can measure permeability and diffusive flow through and across films, solid materials, seals, containers and even building structures up to and including the thickness of a wall. For some materials results are produced in as little as 30 minutes, whereas conventional gravimetric measurements take days or even weeks.
The computerised Versaperm permeability meter is easy to use, requiring only minimal training, yet it increases precision and repeatability. It is accurate in the Parts Per Million (PPM) range for many materials and gases and sometimes as high as PPB.
Versaperm also offers a comprehensive permeability and diffusive flow lab testing service for laboratories and QC departments who don't wish to purchase their own equipment.
ENDS
Please send any sales enquiries to Christopher Roberts, Versaperm Limited ,
10 Rawcliffe House, Howarth Road, Maidenhead, Berkshire, SL6 1AP, UK
e.mail info@versaperm.co.uk Web http://www.versaperm.co.uk
For further Press Information please contact Gerry Palmer @ the Palmer & Rose Partnership.
Fax 0871 528 2723, Tel 01494 637499,
e.mail gerry@palmer-rose.co.uk.