A Sea Change in Freshness & Shelf Life
Oxygen, CO2 & H2O Permeability and MAP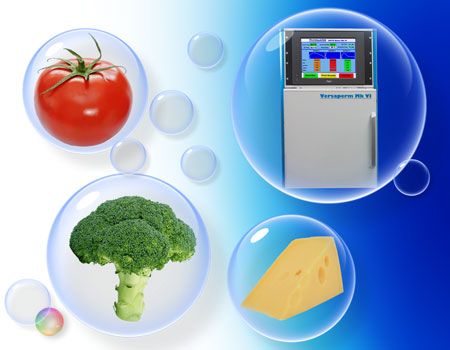 Click on the image to download a print quality scan

MAP Packaging is everywhere but the films used all too often fall far short of ideal for the individual products they contain.  

Producers, retailers and consumers all want products that stay fresh, succulent and tasty for longer and MAP seemed to be the dream solution. The problem is that the freshness of each fruit, vegetable, species, ripeness level and food type is critically dependent on its own highly individual combination of Water, Oxygen, CO2 and other gas environments.  Every MAP film used needs to reflect this with the correct permeability for each gas that is important in the product's packaged environment.  Getting it wrong can dramatically shorten a product's life.

Versaperm's new MAP permeability meters can measure the different permeabilitys for multiple gases simultaneously.  They can do this for the MAP film or a fully packed product.  They can optionally do this for several products at the same time across a range of temperature and pressure environments.

The results can be achieved in as little as 30 minutes for many films and vapours with results that are accurate in the PPM (Parts Per Million) range – PPB for some gasses and films.

The instruments are simple to use with a highly automated computerised control system.

As well as the Versaperm VI meter the company offers both a consultancy and a fast turn-around permeability testing service.


ENDS


Please send any sales enquiries to Christopher Roberts, Versaperm Limited ,
10 Rawcliffe House, Howarth Road, Maidenhead, Berkshire, SL6 1AP, UK, Tel: +44 1628 777668,
e.mail info@versaperm.co.uk Web http://www.versaperm.co.uk

For further Press Information please contact Gerry Palmer @ the Palmer & Rose Partnership. Tel 01494 637499, fax 0871 900 3898 e.mail gerry@palmer-rose.co.uk.