PRESS RELEASE
Pouring Oil On Troubled Waters? Permeability Testing is Critical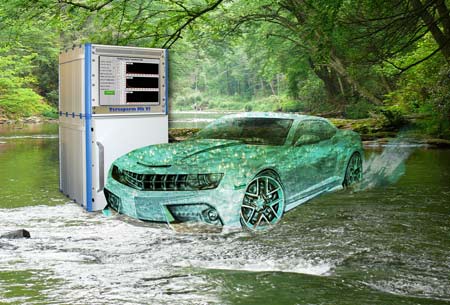 Click on the image to download a print quality scan
It is critically important that components in a car, aircraft, missile etc prevent hydrocarbons or water seeping into the wrong places.  Not only could it have a catastrophic effect on electronics and other components but it can compromise the safety of the system.  It's also a legal requirement in most countries.
Surprisingly, the problems don't usually occur due to leaks, but because hydrocarbons and water vapour can actually permeate through materials, barriers and walls.  Getting things wrong can be disastrous; getting it right can avoid a "crash" course in testing!
Versaperm's new permeability measurement system can perform all of the necessary tests.  It is fast, accurate and offers sensitivities in the parts per million range.  It can even produce some results in as little as 30 minutes for certain materials and gasses, whereas conventional testing take days or weeks and is usually less reliable.   The new Versaperm system can be used on flat sample materials as well as finished components and assemblies.
And, as yet another bonus, it can optionally be used to test not just for hydrocarbons or water vapour, but also CO2 and almost any other gas or vapour. 

Versaperm also offers a quick turnaround laboratory testing service for companies that test too few samples to make the purchase of equipment viable.  Getting water and oil in the wrong places can seriously damage your wealth!
ENDS

Please send any sales enquiries to Christopher Roberts, Versaperm Limited ,
10 Rawcliffe House, Howarth Road, Maidenhead, Berkshire, SL6 1AP, UK, Tel: +44 1628 777668,
e.mail info@versaperm.co.uk Web http://www.versaperm.co.uk
For further Press Information please contact Gerry Palmer @ the Palmer & Rose Partnership. Tel 01494 637499, fax 0871 900 3898 e.mail gerry@palmer-rose.co.uk.