PRESS RELEASE
Can radioactive radon seep into your buildings?
Most areas of the UK are affected!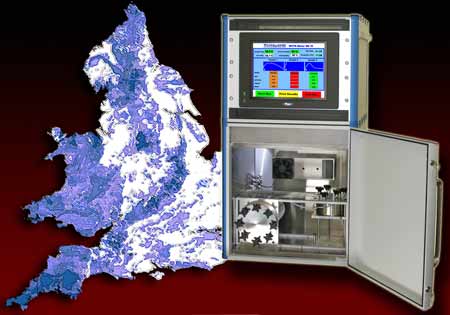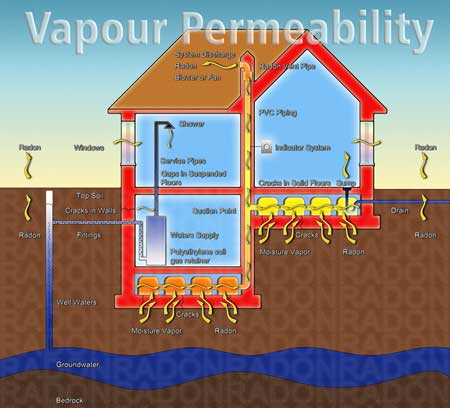 Click on the image to download a print quality scan


The Building Regulations in England, Scotland, Wales and Northern Ireland all require that all new buildings or extensions in "Radon Affected Areas" have protective measures installed during construction. According to government and BRE maps, few areas across the UK are unaffected.

The most effective protection methods are those that prevent radioactive radon from entering – usually by permeating through the floor.  However, measuring the flow of radon through a material or structure has traditionally been slow, complex and very expensive – but now Versaperm has introduced a permeability meter that can measure this flow through either a sample of building material or a complex, multi-layer, structural element.

Radon contributes a massive 50% of the overall average radiation dose across the UK and, after cigarettes, is the largest cause of lung cancer in the UK.

The Versaperm permeability meter is simple to use, requiring minimal training at most, yet it offers high precision and repeatability.  It is accurate in measuring radon in the Parts Per Million (PPM) range. 

The new system can optionally be configured to measure permeability for other gasses including water vapour, carbon dioxide, hydrocarbons, solvents, oxygen, hydrogen, helium and many more.  The equipment is easy to use, highly automated and computerised.

Versaperm also offers a comprehensive permeability and diffusive flow lab testing service for companies who don't wish to purchase their own equipment.
ENDS

Please send any sales enquiries to Christopher Roberts, Versaperm Limited ,
10 Rawcliffe House, Howarth Road, Maidenhead, Berkshire, SL6 1AP, UK, Tel: +44 1628 777668,
e.mail info@versaperm.co.uk Web http://www.versaperm.co.uk
For further Press Information please contact Gerry Palmer @ the Palmer & Rose Partnership. Tel 01494 637499, fax 0871 900 3898 e.mail gerry@palmer-rose.co.uk.