Launched: Pouch Seal Verification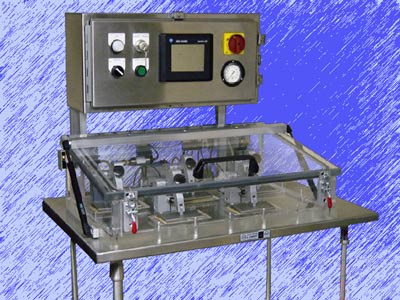 Click on the image to download a print quality scan

Versaperm, a technology leader in the testing marketplace, has taken on responsibility for the European sales, marketing and aftersales of the widely used Gemco Pouch Seal Verification system. This system extends the Seal Integrity Verification (SIV) concept into the testing and verification of flexible pouches.

Flexible pouches are extensively and increasingly used in the food, snack, medical and pharmaceutical industries, reaching applications as diverse as astronaut's meals through to remedies for 'flu and colds. Versaperm will bring its technical muscle and reputation not just into marketing but also into the technical support and servicing.

Seal verification with the Gemco system is extremely simple – just place the pouched product into the S.I.V. chamber. A bar code scan automatically sets up the correct verification program sequence and starts the test. A few seconds later a PASS or FAIL light prompts the operator to start a new sequence. Both data and pouch code are permanently recorded.

Versaperm designs and manufactures equipment for the measurement of gas permeability. Their instruments, services and consultancy are closely interlinked and are based on technological expertise married to thirty years' experience of testing a wide variety of materials and gases.
ENDS
Please send any sales enquiries to Christopher Roberts, Versaperm Limited ,
10 Rawcliffe House, Howarth Road, Maidenhead, Berkshire, SL6 1AP, UK, Tel: +44 1628 777668,
e.mail info@versaperm.co.uk Web http://www.versaperm.co.uk
For further Press Information please contact Gerry Palmer @ the Palmer & Rose Partnership. Tel 01494 637499, fax 0871 900 3898 e.mail gerry@palmer-rose.co.uk.