The Permebility Of industrial Films & Coatings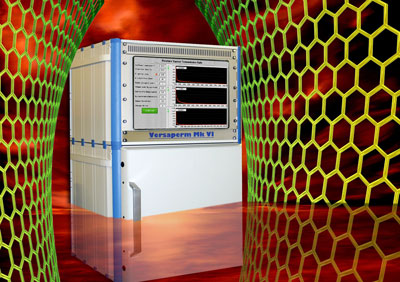 Click on the image to download a print quality scan
A vast assortment of films and coatings can be used to protect, make vapour-resistant and enhance anything from a building to sunglasses and from paper to steel or plastics. Almost always the critical requirement is permeability, usually to protect against water vapour or hydrocarbons. A coating with the wrong permeability can cause products to fail and equipment to leak and under-perform.

Measuring this essential property has now been made quicker, simpler and more accurate with the VI Permeability meter from Versaperm. And its new and extended sensor range means it can be used to measure the permeability with almost any common gas or vapour.

The meter has a highly automated computerised control and can cope with several material samples or finished products at a time - and results are usually accurate to better than one part per million (with some samples accuracy can be measured in parts per billion (PPB). The instrument can be configured to measure the diffusion rates of most gaseous elements (water, O2, CO2, hydrocarbons etc).

As an added advantage it needs at most minimal training and can sometimes give results in as little as 30 minutes. Conventionally gravimetric measurements may take several days to weeks and give significantly less reliable results.
A permeability testing service is also available from Versaperm - usually with a 24 hour turn around.
ENDS

Please send any sales enquiries to Christopher Roberts, Versaperm Limited ,
10 Rawcliffe House, Howarth Road, Maidenhead, Berkshire, SL6 1AP, UK, Tel: +44 1628 777668,
e.mail info@versaperm.co.uk Web http://www.versaperm.co.uk
For further Press Information please contact Gerry Palmer @ the Palmer & Rose Partnership. Tel 01494 637499, fax 0871 900 3898 e.mail gerry@palmer-rose.co.uk.