PRESS RELEASE
How to avoid the next crash!
Permeability measurements for the Aerospace & Automotive industries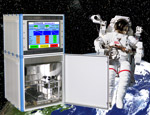 Permeability is vital in real-world applications as it dramatically affects characteristics such as whether systems leak, components rust or fuel tanks explode, it also controls print- and paint-ability along with the shelf life of food & pharmaceuticals. It is critical to the quality control of a huge range of products and processes.
It can be vitally important that parts of a car, aircraft, missile etc don't permit hydrocarbons or water to leak as this can catastrophically affect the computers, components and safety of a vehicle. It's also a legal requirement in most countries.
Design problems usually occur not through leakages, but because hydrocarbons and vapour water can permeate through a component's materials, barriers and walls. Getting it wrong can be disastrous; getting it right can avoid a crash course in testing!
Conventional gravimetric permeability measurements on components, materials, assemblies, tanks, pipes and seals are slow and expensive, taking days, weeks or even months - and they are not always either accurate or consistent. Versaperm's permeability measurement equipment, however, is fast, accurate and gives consistent results under a range of physical conditions. Accuracies are in the Parts Per Million (PPM) range for many materials and gasses.
Versaperm's system can optionally be configured to measure permeability for a variety of gasses including hydrocarbons, solvents, oxygen, carbon dioxide, helium and water vapour. The equipment is automated and easy to use.
Versaperm also offers a laboratory testing service and technical consultancy for companies that test too few samples to make the purchase of equipment viable.
ENDS

Please send any sales enquiries to Christopher Roberts, Versaperm Limited ,
10 Rawcliffe House, Howarth Road, Maidenhead, Berkshire, SL6 1AP, UK, Tel: +44 1628 777668,
e.mail info@versaperm.co.uk Web http://www.versaperm.co.uk
For further Press Information please contact Gerry Palmer @ the Palmer & Rose Partnership. Tel 01494 637499, fax 0871 900 3898 e.mail gerry@palmer-rose.co.uk.