LAUNCH TENSILE TESTING
for the European food packaging marketplace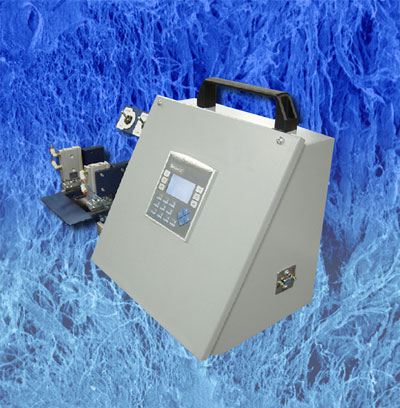 Click on the image to download a print quality scan
Versaperm, which already produces a range of permeability measurement equipment, is launching its Gemco Tensile Tester onto the European food packaging marketplace.

The Tensile Test (or Peel) system is designed specifically to test both the strength packaging material and the strength of its seal. Seal strength is a critical parameter as the package needs to be relatively easy to open but, until it is open it needs to protect and preserve the contents, thus extending the shelf life.

Getting it consistently right boosts customer satisfaction and this impacts on sales.
The system weighs under 13 kg and can be wheeled easily around a food, snack or confectionary, production facility on a stainless steel cart to anywhere compressed air and power are available. This allows it to be moved easily from line to line for quality control and general inspection.

The tensile strength unit measures the precise pressure it takes to tear the package or the seal and is very easy to operate. The sample is attached and the test initiated, stretching the seal, which is put under pressure and stretched. The controller displays the force needed to tear the seal, storing it in memory, it can also produce an average over several results. The unit can stretch at speeds of up to 3 Metres travel per minuet with a maximum force of 16Kg, though most packaging only requires a travel speed of 25cm per minute a force of between one to two Kilograms.
ENDS
Please send any sales enquiries to Christopher Roberts, Versaperm Limited ,
10 Rawcliffe House, Howarth Road, Maidenhead, Berkshire, SL6 1AP, UK, Tel: +44 1628 777668,
e.mail info@versaperm.co.uk Web http://www.versaperm.co.uk
For further Press Information please contact Gerry Palmer @ the Palmer & Rose Partnership. Tel 01494 637499, fax 0871 900 3898 e.mail gerry@palmer-rose.co.uk.