Permeability measurements
…From contamination free drugs and equipment through to the way plasters stick on wet or dry skin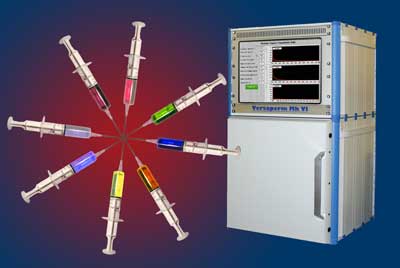 Click on the image to download a print quality scan
Permeability is the main controlling factor for contamination. Whether it is a unitary dose capsule pack, a syringe or a field dressing, in a medical environment, the packaging is critical in ensuring materials remain sterile and that drugs stay contamination free.
Osmosis drives numerous vapours through medical barriers, and they are both contaminating by themselves, and can take contamination with them. Surprisingly the single most widespread contaminant is water vapour, which is not only highly invasive but it reduces the potency and shelf life of many drugs.
Versaperm's latest permeability measurement equipment measures the permeability directly, enabling the most appropriate materials and manufacturing processes to be used. Measurements can be for water vapour, but also for Oxygen, CO2, solvents, and most other gases.
The new version of the permeability meter measures to an accuracy in the parts per million range, (parts per billion for some gases and materials).
The meter can be used on a very diverse range of products, containers, materials and packaging - including capsules, foil laminates and blister packs. It can also be used for inhalers, syringes and analytical instrument enclosures and even allows you to measure the permeability of some substances that decompose using normal measurement techniques.
Versaperm also offers a consultancy and a permeability laboratory service for companies that need to test samples on an irregular basis.

ENDS

Please send any sales enquiries to Christopher Roberts, Versaperm Limited ,
10 Rawcliffe House, Howarth Road, Maidenhead, Berkshire, SL6 1AP, UK, Tel: +44 1628 777668,
e.mail info@versaperm.co.uk Web http://www.versaperm.co.uk
For further Press Information please contact Gerry Palmer @ the Palmer & Rose Partnership. Tel 01494 637499, fax 0871 900 3898 e.mail gerry@palmer-rose.co.uk.