DON'T GO WITH THE FLOW
Why seals, gaskets and containers leak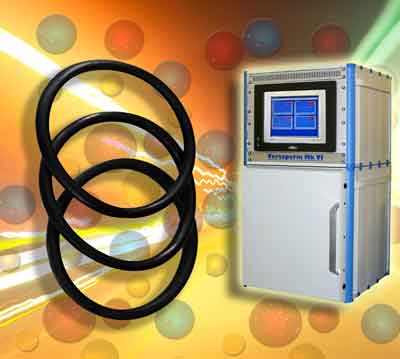 Click on the image to download a print quality scan

Most seals, mastics, gaskets and containers are a brilliant barrier to liquid water. However they can leak like the proverbial sieve when it comes to water vapour – hence many gaskets and seals don't actually seal.

Versaperm Limited, a world leader in water vapour permeability has launched an entirely new instrument to measurement this exact thing (i.e. water vapour permeability). It can test not only finished products, but also sheets of raw materials and individual components such as seals, producing results in as little as 30 minutes for same materials, as opposed to the days and even weeks required by conventional gravimetric testing.

The new instrument - the MK VI WVTR meter (Water vapour transmission) is ideal for use by either R&D or QC and production departments, it is simple and highly automated to use and requires little or no training to produce consistent and accurate results.

Water vapour is the world's most damaging contaminant and costs UK industry hundreds of millions of pounds a year – yet it can now be checked with a simple 30 minute measurement. Seals failing, electronics failing, components rusting, machinery jamming, pipes clogging are all caused by a simple misunderstanding about water vapour that is easy to put right.

The MK VI needs very little re-calibration and requires, at most, minimal training to give results that can be accurate to better than one part per million (with some samples a few parts per hundred million). Sensitivities vary with the options chosen and the application, but are typically in the range 0.05 - 3200g/m2/day.
A wide variety of options is available, depending on the specific application, but both single and multi-sample systems, plus a range of measurement chambers and sensors can be supplied for testing samples, which can range in size from a thimble up to a pallet load. Additionally the instrument can be configured to measure the diffusion rates of most gaseous elements (water, O2, CO2 etc).

The company also operates a laboratory service to measure permeability for companies where the volume or logistics of measurements does not demand a dedicated instrument.
ENDS

For further Press Information please contact Gerry Palmer @ the Palmer & Rose Partnership. Tel 01494 637499, fax 01494 452630, e.mail gerry@palmer-rose.co.uk.
Please send any sales enquiries to Christopher Roberts, Versaperm Limited ,
10 Rawcliffe House, Howarth Road, Maidenhead, Berkshire, SL6 1AP, UK, tel: +44 1628 777668
e.mail info@versaperm.co.uk Web http://www.versaperm.co.uk