H2 – Owwh!
Water vapour permeability equipment & how plastics and rubber leaks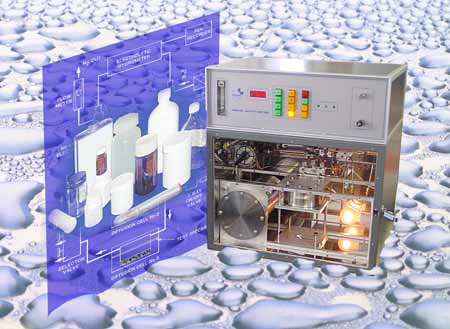 Click to download print quality scan
The majority of plastics or rubber products are impervious to water, many of them allow water vapour to pass straight through. This can cause widespread problems – from packaged drugs loosing effectiveness through to food drying out, or going soggy.
In some ways the action of water vapour is counter- intuitive (the more tightly to screw some containers down, the more they leak). As a result accurate measurements of water vapour permeability can be vital, and the answer is the WVTR meter from Versaperm.
The meter can measure the water vapour flow through a vast range of materials and containers and can produce results that are accurate to better than one part per million. Conventional techniques take several days, but the Versaperm system is considerably faster, taking form as little as 30 minutes for some materials.
The meter can can cope with several samples at a time, is simple to use and gives a series of digital readouts that can be recorded or simply read off the LCD screen. It needs no re-calibration and requires, at most, minimal training. Sensitivities are in the range 0.05 – 3200g/m2/day.

A wide range of options are available, depending on application, but both single and multi-sample systems and a variety of chambers are available for testing samples the size of a thimble up to 25 litre bottle. Special options allow testing of products as big as pallet load and beyond.

ENDS

Please send any sales enquiries to Christopher Roberts, Versaperm Limited ,
10 Rawcliffe House, Howarth Road, Maidenhead, Berkshire, SL6 1AP, UK, tel: +44 1628 777668
e.mail info@versaperm.co.uk Web http://www.versaperm.co.uk
For further Press Information please contact Gerry Palmer @ the Palmer & Rose Partnership. Tel 01494 637499, fax 0871 9003898,
e.mail gerry@palmer-rose.co.uk.