SNACK UP YOUR TROUBLES
Packaging design can dry-out or soggy-up. Versaperm let you test your solution and improve shelf life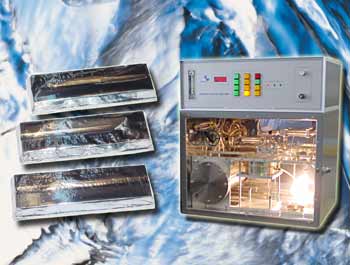 Click to download print quality scan

Packaging needs to be innovative to attract customers – but it must also prevent products from drying-out or over-hydrating. Furthermore, it should increase shelf life. Water vapour is usually the culprit and causes damage and reduced shelf life that is estimated to cost millions in the UK alone. Water vapour technology specialists Versaperm, now offer a fast and economical testing service for the snack food and confectionery industries, that determines the often-critical permeability of products and their coatings and packaging. They also manufacture and supply water vapour (WVTR) test equipment.
Water vapour is omnipresent, degrades products, causes sogginess, enhances biodegradation and reduces shelf-life. In other cases, its loss dries products out, causing viscosity, flavour and aesthetic problems.
Versaperm can test the permeability of a huge range of products and packages – from metalized foil packages and sachets through to sugar coatings and barrier materials. They can also provide measurements of the equilibrium relative humidity (ERH) of snacks that might are be decomposed by other water content measuring techniques.
The company uses its own-developed WVTR equipment, which can produce accurate and reliable results to better than one part per million – sometimes in the parts per hundreds of million range. With some materials these results can sometimes be achieved in as little as 30 minutes, but even with hard to measure foils, results can normally be turned around in a day. Sensitivities are in the range 0.05 – 3200gm/m2/day.
The service is considerably faster and more accurate than using conventional gravimetric technique measurements that can take days or even weeks to perform.

ENDS

Please send any sales enquiries to Christopher Roberts, Versaperm Limited ,
10 Rawcliffe House, Howarth Road, Maidenhead, Berkshire, SL6 1AP, UK, tel: +44 1628 777668
e.mail info@versaperm.co.uk Web http://www.versaperm.co.uk
For further Press Information please contact Gerry Palmer @ the Palmer & Rose Partnership. Tel 01494 637499, fax 0871 9003898, e.mail gerry@palmer-rose.co.uk.