WATERPROOF? Electronics, equipment and the potential failure of marine enclosures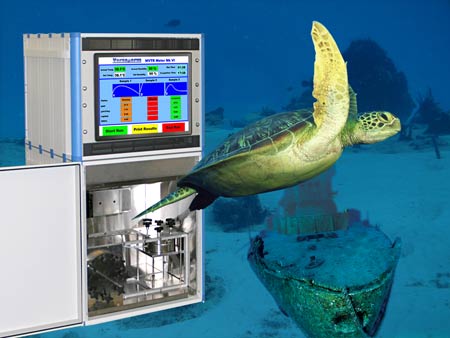 Click on the image to download a print quality scan
Even in a marine environment it's reasonably easy to keep liquid water out, but keeping water vapour out is a much harder problem. Water vapour can move through the actual walls of an enclosure, as well as through any seals etc. Often the very materials that are good at keeping liquid out are almost useless at keeping it out as a vapour.
And in the high humidity, safety-critical, marine world this problem is far too serious to ignore. And it's even harder when you consider hydrocarbons as well. Vapours that seep through in this way can, and do, led to disastrous results.
Versaperm is a world-leader leader in measuring this vapour permeability and has introduced a quick, easy and efficient way to determine it accurately. It works for materials, finished products and enclosures. The system can, optionally, work with most gasses including water vapour, hydrocarbons, hydrogen, oxygen, solvents, CO2 and other substances regularly found aboard marine vessels.
The new instrument has a wide range of options and sensors to suite almost any requirement and it produces results that are accurate in the parts per million range, (PPM) for most samples and vapours. It often produces a result in as little as 30 minutes – conventional gravimetric measurements take days or weeks and are significantly less accurate.
Versaperm also offers a laboratory testing service for companies that only need to test samples on an irregular basis.

ENDS

Please send any sales enquiries to Christopher Roberts, Versaperm Limited ,
10 Rawcliffe House, Howarth Road, Maidenhead, Berkshire, SL6 1AP, UK, Tel: +44 1628 777668,
e.mail info@versaperm.co.uk Web http://www.versaperm.co.uk
For further Press Information please contact Gerry Palmer @ the Palmer & Rose Partnership. Tel 01494 637499, fax 0871 900 3898 e.mail gerry@palmer-rose.co.uk.