PRESS RELEASE
The Critical Factor -
wound dressings and transdermal drug delivery systems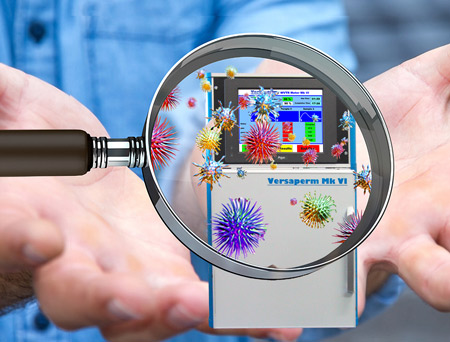 Click on the image to download a print quality scan
Wound dressings and transdermal drug-delivery patches are both critically dependent on the vapour permeability of their multiple layer construction.  Drug, adhesive layers and membranes both need to be permeable to any medication but impermeable to external water vapour and contaminants.  Time release and hydrocolloid layers can demand additional vapour permeability characteristics.

Versaperm's range of specialised meters provide accurate permeability measurements for all of the different medical and contaminate vapours, materials and laminate structures required.  Vapour permeability is usually the determining factor in developing new or enhanced products to optimise dose delivery rates for individual medications.

The equipment is fast, simple to use, accurate and can measure the permeability of either each individual layer, or as complex multi-layer laminated structures.  The system provides repeatable accuracies in the in Parts Per Million (PPM) range, with PPB range for some materials.

Additionally vapour permeability is almost always the definitive factor in extending the shelf-life due to contamination during storage and drug potency reduction. 
As well as developing and manufacturing the equipment,  Versaperm offers a technical consultancy and a quick-turn-around laboratory testing service.
ENDS
Please send any sales enquiries to
Versaperm Ltd: 10 Rawcliffe House, Howarth Road, Maidenhead, Berkshire, SL6 1AP, UK,
e.mail: info@versaperm.com Web: www.versaperm.com
UK Tel: +44 (01628) 777668
USA Tel +011 (617) 500-8607
For Further Press Information please contact:
Gerry Palmer @ the Palmer & Rose Partnership
Tel 01494 637499 
e.mail gerry@palmer-rose.co.uk