Packing it in
Improving the handling, sealing, quality and printing of packaging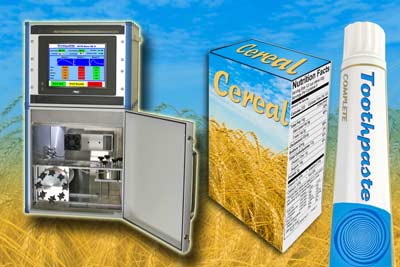 Click on the image to download a print quality scan
Plastics and coated paper are among the most widely used packaging materials in the world. And by far the most important factor in controlling the handling, sealing, quality and printing characteristics is permeability.

Versaperm is a world leader in the technology of permeability measurement and it has upgraded its VTR (Vapour Transition Rate) meter. The new upgrade can be configured to measure permeability for water as well as a wide range of other gases such as Oxygen, Nitrogen, CO2 and Hydrocarbons.

The meter can consistently measure the permeability of packaging or coatings, sometimes in as little as 30 minutes. Accuracies are in the PPM range for most gases and the PPB range for some others.

The Versaperm permeability meters' highly automated computerised control makes it simple to use and allows it to measure several samples at a time.
A sample testing service is also available from the company - usually with a 24 hour turn around.
ENDS

Please send any sales enquiries to Christopher Roberts, Versaperm Limited ,
10 Rawcliffe House, Howarth Road, Maidenhead, Berkshire, SL6 1AP, UK, Tel: +44 1628 777668,
e.mail info@versaperm.co.uk Web http://www.versaperm.co.uk
For further Press Information please contact Gerry Palmer @ the Palmer & Rose Partnership. Tel 01494 637499, fax 0871 900 3898 e.mail gerry@palmer-rose.co.uk.