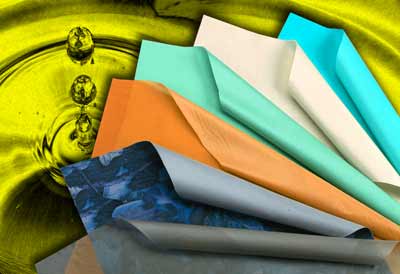 <>
Click the photo to download a print quality copy of the image
Versaperm, a technology leader in permeability testing, has introduced a simple, dedicated system to measure how waterproof, windproof and breathable any sample or batch of textiles actually is. The system follows the requirements of the ISO15496:2004 standard - and its ease of use brings a golden Midas touch to the previously complex and time consuming task of measuring the permeability of textiles.

The system is ideal for both quality control and development and can be used to assess how suitable a textile is for use in outdoor fabrics and garments. Most of these textiles freely allow the passage of water as a vapour, but strongly resist it as both water droplets and wind. Measuring the permeability of such fabrics to the ISO standard has traditionally been difficult and time consuming, with different equipment producing wildly different results – often by as much as 4-500%.

The Versaperm ISO 15496 gravimetric equipment overcomes these problems, it is designed around a temperature-stabilized and high quality solid acrylic bath that substantially reduces the critical thermal losses.

Weatherproof fabrics are typically plain weaves with yarns coated with a durable water repellent finish. Many also have a microporous or monolithic film, coating, or bicomponent combination. These materials are produced in massive quantities worldwide. However, for companies where their throughput is not high enough to warrant a dedicated instrument, the company provides a laboratory testing service.

ENDS
Please send any sales enquiries to Christopher Roberts, Versaperm Limited ,
10 Rawcliffe House, Howarth Road, Maidenhead, Berkshire, SL6 1AP, UK
e.mail info@versaperm.co.uk Web http://www.versaperm.co.uk
For further Press Information please contact Gerry Palmer @ the Palmer & Rose Partnership.
Fax 0871 528 2723, Tel 01494 637499,
e.mail gerry@palmer-rose.co.uk.