Altitude simulation testing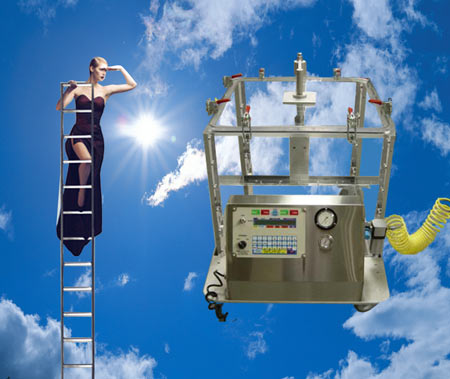 Our multi-functional seal-strength tester combines a Packaging Seal strength/integrity checker with an High Altitude Shipping Simulator in line with the standards that operate in both the UK and European Markets (ASTM D6653). A separate version is available to meet the alternative standards prevalent in the US markets.
Bags can leak (and thus degrade the product), packs can also burst open.  Delivery by air transport can be a problem as the low pressure can cause a pack to burst.

When a pack bursts the burst most often occurs where a seam meets the closure seal across the top (seals and seams are naturally potential problem areas, and where they meet the problem is doubled). 

However, it is usually important to ensure that packs are not sealed so strongly that they cannot be easily opened by the consumer. So an acceptable range of seal strength has to be achieved.

In order to produce packaging that is consistently able to protect any contents over the entire shelf life of any product, it is important to measure the seal strength and the combined size of all holes (which obviously equates to leakage). Not only does this play a key role in the validation of a pack's shelf life, but it also allows companies to determine the reliability of their sealing process and ensure that it meets their design specifications.

Relevant standards include:

ASTM F1140 – Package Strength Testing by Burst Testing

ASTM D3078- Standard Test Method for Determination of Leaks in Flexible Packaging by Bubble Emission

ASTM D3330 – Package Strength Testing by Peel Adhesion Testing

ASTM F88 – Package Strength Testing by Seal Peel Testing

Our new SIV III packaging test equipment is designed to ensure that packaging seals are both strong enough to hold and gentle enough to open easily. Additionally it , tests the seals of products that are shipped at high altitudes. This is essential, for example, when many goods are transported by plane. The equipment is fully compliant with CE and ISO 9001 standards

The High Altitude Shipping Simulator (HASS) system provides very flexible options – including height, number of high peaks the goods fly over, ramp speed (or rate), time at the peak.


For information on packaging testing on Wikipedia click here
ASTM D6653- Standard Test Methods for Determining the Effects of High Altitude on Packaging Systems by Vacuum Method
Water Vapor Permeability and Thermal Conductivity as a Function of Temperature and Relative Humidity
For equipment for high altitude packaging testing click here (SIV III) or here (HASS)
For press information on high altitude testing click here