In engineering and manufacturing, quality control and quality engineering, permeability testing is used to ensure products or services are designed and produced to meet or exceed customer requirements.
Because of the need for speed in Quality Control (QC) and production situations, we have developed our own technology and equipment that gives fast, highly accurate, vapour permeability results. Conventional gravimetric testing can take days or even weeks to measure the sample.
Our quality control equipment is highly automated computerised control can deal with several samples at a time - and still give a reading in as little as 30 minutes for some materials. Permeability measurements can be accurate to better than one part per million (with some samples a few parts per hundred million). Sensitivities are typically in the range 0.05 - 3200g/m2 per day.
Our QC instrument can be configured to measure the diffusion rates of most gaseous elements including water, hydrocarbons, alcohol, He, H, N2, O2, CO2 etc.
Vapour Permeability is the rate at which a vapour flows through a barrier. Inappropriate permeability, poor seals and sealing are serious quality control issues in manufacturing, often causing early, and sometimes catastrophic, failure of products as diverse as electronics to pharmaceuticals and from jammed equipment and missiles to stale food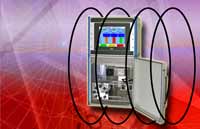 Click here for an article on Practical Pointers for Packaging Permeability
Click here for Wikipedia's semi-permeable membrane permeability page or here for their Quality Control page
Click here for a press release on measuring permeability for quality control