The Vapour Permeability of Pharmaceutical and Medical products

Measuring the permeability of medical and pharmaceutical products and equipment can be accurately, easily and quickly achieved with our latest permeability meter. It can measure the permeability of both individual materials as well as finished products.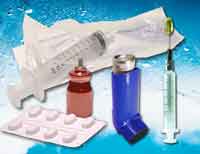 Permeability plays a major role for medical and pharmaceutical products and is the critical controlling factor in contamination prevention. Also, the moisture that permeates the protective packaging reduces the potency and shelf life of many drugs and compounds. Good packaging prevents the drug, dressing or syringe etc from harm, contamination and reduced efficacy.
Our WVTR (Water Vapour Transmission) meter can measure the permeability of both materials and finished packages. These can vary greatly with around 75% of a plastic or laminate's barrier typically being lost just by forming it into a blister. The meter can be configured to measure the permeability of most of the gases used in the medical field - including Oxygen, CO2, alcohol and anaesthetic gases.

The MKVI WVTR meter can measure the vapour permeability of almost any material quickly and accurately. Conventional gravimetric measurements - which take days or even weeks, can produce results that are often less reliable. Sensitivities are typically in the ppm range (considerably higher in for some materials and gases), where required, flow rates considerably in excess of 3,000g/m2/day can also be measured using alternative techniques.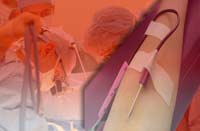 We also offer a laboratory testing service for companies who test too few samples to make the purchase of equipment viable.
Permeability is the degree to which one substance allows another substance to pass through it. It is often critical in medical and pharmaceutical applications to prevent contamination, for protection, and to extend the shelf-life & potency of drugs or ensure powders do not clog. It is used in the design and manufacture of blister packs, bottles, pill containers, surgical dressings, needles and syringe products.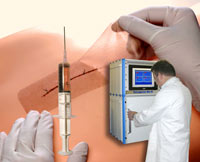 Click here for an article on medical and pharmaceutical permeability testing
Click here for Wikipedia's semi-permeable membrane permeability page or here for their Vapour Barrier page
Click here for a press release on medical and pharmaceutical permeability measurement