Corrosion is the oxidisation of the a material e.g. metal, at the metal/environment interface. This chemical reaction results in a deterioration in the mechanical properties of the material. The process of extracting a metal from an ore involves a reduction process where considerable energy is absorbed. This makes it easy for the metal to try to return to its former stable, oxidised, low energy state as quickly as environmental conditions allow. The energy difference between the pure metal and its oxidised forms is the driving force in corrosion.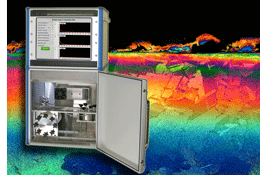 Corrosion mechanism
The fact that mild steel (for example) is an impure, heterogeneous material is a substantial factor in its poor resistance to corrosion. The presence of anodic and cathodic sites on the material's surface, together with their reaction with O2 and water, leads to the transformation of metal atoms into a metal ions, by the loss of electrons. i.e.
Anodic Reaction:
4Fe > 4Fe++ + 8e¯
Iron > Ferrous Electrons
Atom Ion
This is termed electrochemical corrosion but it can only occur where there is a suitable electron acceptor to combine with the electrons released by the iron atom. The dissolved atmospheric oxygen in seawater, for example, provides this and the oxygen is electrochemically reduced to hydroxyl ions in the cathodic reaction.
Cathodic Reaction:
2O2 + 4H2O + 8e¯ > 8OH¯
Oxygen + Water + Electrons Hydroxyl
Ions
The heterogeneous character of steel allows for some sites to favour the anodic reaction and for others to favour the cathodic reaction.
Pitting corrosion
Corrosive attacks tend to be extremely localized but penetration can be deep, this results in a particularly hazardous forms of corrosion that is usually most intense on millscaled or coated steel.

Bacterial corrosion
Bacterial micro-biological corrosion or anaerobic corrosion only occur when local conditions support this activity, for example in oil or ballast tanks, pipework etc.
Coatings
The effectiveness of coatings in preventing corrosion depends upon numerous factors and the coating must be specifically designed with the ultimate application and environment. There has been controversy over the years reguarding the way these costings work.
Originally it was thought that they simply acted as a barrier to oxygen and water, but more recent work shows that oxygen and water can permeate through most coatings causing displacement of the coating from the steel - allowing corrosion at that site. Low permeability together with adhesion under immersion, are now felt to be the most important aspects of corrosion control by coatings.
The Versaperm range of instrument can identify and help to resolve the corrosion issue and can measure the amount of water, oxygen, or almost any other gas, that can flow through a sample of virtually any coating to cause rust. With some coatings you can get an answer in as little as thirty minutes, whereas with conventional Gravimetric techniques it usually takes days or more usually weeks.

Our permeability equipment is easy to use, requiring, at most, minimal training, yet it offers high precision and repeatability. It is accurate in the Parts Per Million (PPM) range for many materials and gases, sometimes PPB. It can optionally be configured to measure permeability under an extremely wide range of conditions and for most gazes. These include hydrocarbons, solvents, oxygen, carbon dioxide, hydrogen, helium and water vapour.

An appropriate coating will dramatically reducing the oxygen needed to fuel the often rapid chemical and electrochemical reactions that cause rust and corrosion.

Versaperm also offers a comprehensive permeability and diffusive flow lab testing service for companies who don't wish to purchase their own equipment.
Click here for a press release on Corrosion testing
Click here for Wikipedia's article on corrosion
Click here for an article on permeability / vapour barriers on Wikipedia
Some of the many sample types we can test in our permeability testing laboratory