The building and construction industry relies heavily on vapour barriers to meet the stringent water and air tightness requirements of modern building practice. But not only can barriers such as paints, films and membranes work differently in changing weather or structural conditions, the results you get in the real world are often far removed from the theoretical published values. The only way to check this is to test them.
The flow of moisture can affect both the building's structure and the health of the people who live or work inside. Not only that but it has a considerable effect on thermal insulation, but getting it wrong can cause mould, rot and decay, which have been linked to the rise in Asthma and other medical conditions.
The modern term "Breathability in buildings" is not really about air. It is about water, and water vapour in particular. It describes the way water moves through building structures in terms of the permeability of the components in the building's structure.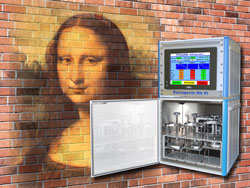 Measuring the Permeability of paint, waterproofing liquids and vapour barriers in buildings
Water has a major affects on everything in a building from the decay of the building's fabric, to its thermal performance. This is especially so with the requirement to improve airtightness and indoor air quality. It has a significant role to play in both new buildings and of renovation.
Click here for a press release on the permeability measurement of paint
Click here to find out more about vapour barriers
Click here for information about "Understanding the Role of Vapor Permeability in the Durability of Commercial Building Enclosures"