The permeability of containers & enclosures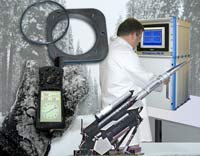 Most enclosures shouldn't leak or let in water (or other vapours for that matter). In many applications, such as electronics, pill bottles, drinks cans and petrol tanks, for example, leakage can prove disastrous. So it is critically important to measure their permeability, especially as permeability can be reduced by a factor of four by simple manufacturing processes, such as thermoforming.


We have many years of experience designing and manufacturing equipment for determining the permeability of enclosures and containers from the smallest pill blisters to large tanks. Where a container is sealed on the production line, the most representative measurements are obtained on samples where a source of the gas, such as water for water vapour transmission rates, is sealed into the container on a production basis. This allows us to test the samples rapidly and accurately, without any interference or sample preparation. Where this is not possible, a range of alternative techniques are available.

We use a range of chamber sizes, from 100 ml to 3 litre, fitted inside the instruments. For very large samples, external temperature controlled chambers may be used. Our current limit is about twice the size of a 40 ft shipping container!

Measuring the vapour or gas
permeability of pharmaceutical enclosures

Measuring the vapour or gas
permeability of plastic enclosures
Click here for a press release on Electronics permeability testing
Click here for an article entitled "Water Mess - the impact of water vapour on the modern world"
Click here for an article on permeability / vapour barriers on Wikipedia
Some of the many sample types we can test in our permeability testing laboratory