Medical Permeability
Water vapour is everywhere and permeability causes more problems to medical products than most other things put together. It can de-activate and contaminate drugs as well as cause medical devices to fail. Yet it is incredibly useful when, for example, as superheated steam it sterilises bandages and syringes actually through the packaging.

The only way to ensure that no material with an inappropriate vapour permeability is used in medical products and dressings is to test them. This is particularly the case in drug packaging and capsules as the permeability of a finished package is often wildly different to that of the materials it is made from >
It can be used on huge range of medical, laboratory, drug and QC materials, containers and packages – from foil laminates on unitary dose blister packs to inhalers and from analytical instrument enclosures and seals through to packaging. It can also provide measurements of substances that might otherwise be decomposed by normal water content measuring techniques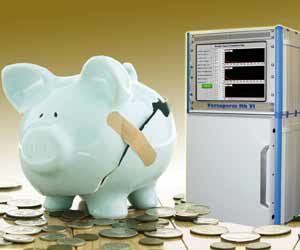 For equipment to measure permeability click here
For information on permeability testing click here
For background information on permeability click here

Permeability can reduce waste in medicinal products and prolong active life and potency of pharmaceuticals

Vapour permeability is the measure of how strongly a medical material or package can resist the barrier passage of any gas (such as water vapour, Oxygen, CO2 or a hydrocarbon). Vapour permeability dramatically affects the physical characteristics of most products and materials, from syringes to inhalers.

.