ARE YOUR COATINGS EFFECTIVE?
And why vapours even seep through waterproof coatings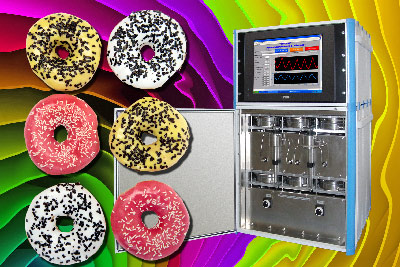 Click on the image to download a print quality scan

Industrial films coatings are designed to protect and improve an enormous range of products - from oil rigs through to writing paper.   In the vast majority of cases the coating is designed to keep out moisture, contaminants or reactive gases. 

Versaperm's latest equipment allows you to measure this directly and precisely.  This, in turn, allows you to choose the very best coatings for your specific application and to quality control the results. This is especially important when you realise that water vapour is directly responsible for several Billion pounds worth of waste in the UK alone each and every year!

Measurements can be configured for water vapour, as well as Oxygen, CO2, solvents, hydrocarbons and most other gases, with accuracy typically in the parts per million range, (parts per billion for some gases and materials).  The equipment has an automated computerised control and can cope with several samples at a time.

As added advantages, the equipment is simple to use and can give results in as little as 30 minutes for some materials and vapours.  Conventionally gravimetric measurements may take several days or weeks and give significantly less reliable results.

A permeability testing service is available from Versaperm for companies that don't have the production throughput to require a dedicated instrument.
ENDS
Please send any sales enquiries to Christopher Roberts, Versaperm Limited ,
10 Rawcliffe House, Howarth Road, Maidenhead, Berkshire, SL6 1AP, UK, Tel: +44 1628 777668,
e.mail info@versaperm.co.uk Web http://www.versaperm.co.uk
For further Press Information please contact Gerry Palmer @ the Palmer & Rose Partnership. Tel 01494 637499, fax 0871 900 3898 e.mail gerry@palmer-rose.co.uk.