Carbon Capture & the Permeability of CC Membranes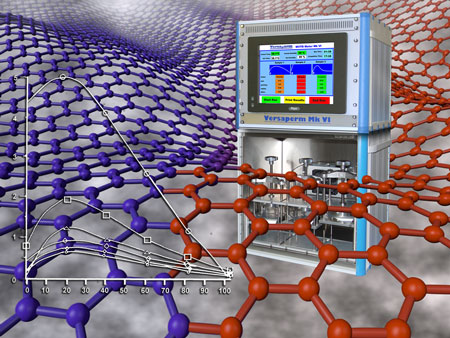 Click on the image to download a print quality scan


Carbon Capture is one of the biggest issues facing the planet and the increase in development and testing of Carbon Capture membranes has been understandably dramatic.

Versaperm has introduced a version of its Permeability meter together with a range of specialist filter that can measure not just the CO2 permeability of Carbon Capture membranes but also the permeability of the membrane to most other gases including oxygen, hydrocarbons, nitrogen and water vapour.

The equipment can be supplied with an oven/ furnace as many Carbon Capture membranes are designed to work at high temperature. The furnaces can operate at up to 1100 C.

The equipment is highly accurate and easy to use with sensitivities in the PPM (parts per million) or PPB (parts per billion) range depending on the membrane and gas under test. The instrument can test material samples of the material as well as CO2 filter units.

Results can be achieved in as little as 30 minutes for some vapours, materials and conditions.

As well as manufacturing the instruments, Versaperm offers a vapour permeability laboratory and consultancy service for companies that need to test samples on an irregular basis.
ENDS

Please send any sales enquiries to Christopher Roberts, Versaperm Limited ,
10 Rawcliffe House, Howarth Road, Maidenhead, Berkshire, SL6 1AP, UK, Tel: +44 1628 777668,
e.mail info@versaperm.co.uk Web http://www.versaperm.co.uk
For further Press Information please contact Gerry Palmer @ the Palmer & Rose Partnership. Tel 01494 637499, fax 0871 900 3898 e.mail gerry@palmer-rose.co.uk.