Extending the shelf life of cosmetics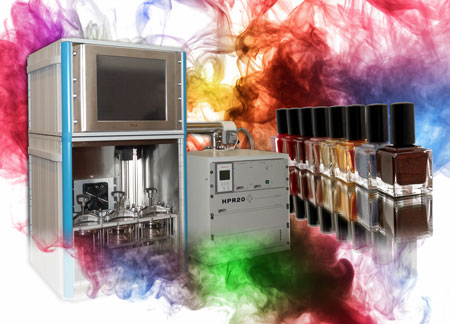 Most cosmetics degrade over time – some react with water vapour or oxygen to produce "off" smells, others lose their top-note aromas and some occasionally cause skin issues – all leading to reduced shelf life.  The solution to extended shelf-life lies in using the packaging, or the product itself, to control the flow of moisture, aromatics and outer vapours both into and out of the product.

Versaperm equipment can measure the flow of all of these vapours and compounds through any material, tube, tub, bottle, container or packaging used by the cosmetics industry.  This allows materials to be chosen that suit the widely varying needs of individual products.

Vapour permeability regulates the through-container permeation of aromatics, moisture, oxygen and other vapours.  It can also stabilises the delicate unsaturated lipid bonds, which prevents production of rancid odours.  Similarly, it reduces micro-organism growth, reducing quality loss.

Versaperm's latest generation of multi-gas permeability measurement equipment allows developers and manufacturing houses to measure all gases individually with a single overall test.  It controls a wide range of environmental conditions and can test the product, the packaging and the effect of different manufacturing techniques. 

Versaperm's system can measure the vapour permeability of cosmetics, materials, tubes, vials, thermoformed pots, bottles, sachets, foils, laminates, films and other barriers.  It can do for multiple gases at the same time with an accuracy for each gas typical in the PPM (Parts Per Million) to PPB ranges.

ENDS
Please send any sales enquiries to
Versaperm Ltd: 10 Rawcliffe House, Howarth Road, Maidenhead, Berkshire, SL6 1AP, UK,
e.mail: info@versaperm.com Web: www.versaperm.com
UK Tel: +44 (01628) 777668
USA Tel +1 (617) 855-7477
For Further Press Information please contact:
Gerry Palmer @ the Palmer & Rose Partnership
Tel 01494 637499 
e.mail gerry@palmer-rose.co.uk