PRESS RELEASE
Plastics, rubber and the problem of permeability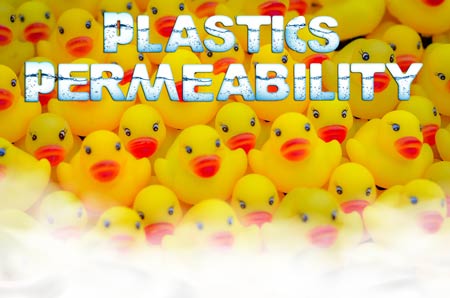 Items made from plastics and rubbers are everywhere – but there is a common problem that it is often overlooked.  Because these materials are often impervious to liquids, people forget that they are never impervious to gases.  Results from vapours seeping through containers or barriers and then condensing can be catastrophic.
Materials such as such as silicone, cellulose, EVOH and PVOH are so poor as vapour barriers that they almost might not be there at all!
To make matters even worse, manufacturing processes such as forming or extruding can quadruple the amount vapour that permeates through a material. If you want to keep vapours such as water, CO2, hydrocarbons or oxygen etc. either in, or out, the only reliable answer for any component, container or product you produce is to test it.  And that is where Versaperm comes in.
Measuring and characterising this permeability through, materials, laminates or even fully finished products is fast, accurate and easy with the latest generation of  mass-spectrometer based Versaperm equipment.  It may actually be doubly critical as vapour permeability can also affect a material's other physical characteristics, including strength, handling, resistance, print quality and the way it performs in general.
Versaperm's equipment gives an accuracy that is typically measured in the parts per million range, with parts per billion with some gases and materials.  The system is ideal for development work, testing, and QC (Quality Control) - even in multi-layer barrier products.
As well as manufacturing these instruments, Versaperm offers a permeability laboratory service for companies that only need to test samples on an irregular basis.
ENDS
Please send any sales enquiries to
Versaperm Ltd: 10 Rawcliffe House, Howarth Road, Maidenhead, Berkshire, SL6 1AP, UK,
e.mail: info@versaperm.com Web: www.versaperm.com
UK Tel: +44 (01628) 777668
USA Tel +1 (617) 855-7477
For Further Press Information please contact:
Gerry Palmer @ the Palmer & Rose Partnership
Tel 01494 637499 
e.mail gerry@palmer-rose.co.uk