PRESS RELEASE
Testing breathable textiles and high performance clothing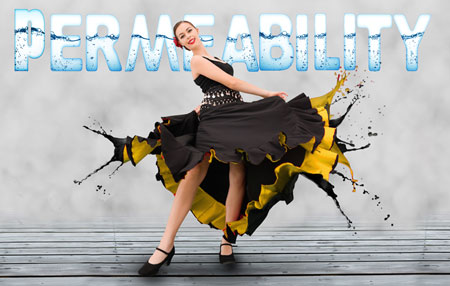 Click on the image to download a print quality scan

Modern fashion trends, twined with the desire for increasingly high performance textiles, may have proved a boon to the clothing and outdoor industries – but have placed a considerable strain on fabric producers who need to introduce new performance fabrics in shorter and shorter timescales.
Sadly, conventional testing can take several weeks to make a single permeability measurement and this adds a huge time lag into any development.  Fortunately, Versaperm has come up with a solution that cuts these weeks down to as little as thirty minutes for many fabrics.  Their latest multi-gas permeability meter is often not only over a hundred times quicker but it can be more accurate and can even test several fabrics at a time.
This slashes the development time needed for a new fabric or production method.  Results are typically accurate in the parts per million range (parts per billion in some cases).
The Versaperm system is ideal for both product development and the quality control of fabrics and garments.  It is particularly suited to textiles that need to allow the passage of water vapour (breathable), but strongly resist both water droplets and wind.
Because the ISO standard (15496:2004) requires the use of the old, slow gravimetric technique as opposed to the modern instrumental methods, Versaperm also produces a conventional gravimetric systems to guarantee compliance. 
For companies not wishing to own their own systems, Versaperm can provide a fast-turn-around laboratory service and consultancy.   

ENDS

Please send any sales enquiries to Christopher Roberts, Versaperm Limited ,
10 Rawcliffe House, Howarth Road, Maidenhead, Berkshire, SL6 1AP, UK, Tel: +44 1628 777668,
e.mail info@versaperm.co.uk Web http://www.versaperm.co.uk
For further Press Information please contact Gerry Palmer @ the Palmer & Rose Partnership. Tel 01494 637499, fax 0871 900 3898 e.mail gerry@palmer-rose.co.uk.