The O-Ring Trap
…or why O-rings, sealants and gaskets don't work properly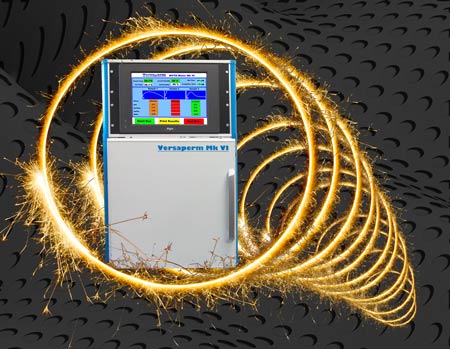 There is a trap that people fall into – they instinctively feel that just because a seal or O ring keeps liquids out, then it is doing its job properly.  But vapours can actually pass through any material, sometimes and in great quantities – it was this that caused the space shuttle Challenger to explode.  But Versaperm can help.
Versaperm equipment allows you to measure and test the vapour permeability of materials, O-rings, seals and even complete finished products, so you understand if the seals and manufacturing processes work in your case. 
Vapours can permeate through every single material.  This causes electronics to fail, machines to jam, printing to lose quality, metals to rust and a host of other problems.
Considering that water vapour is the world's single most widespread contaminate, the problem can be acute.  Versaperm's meter can simultaneously measure the vapour permeability of several samples, seals, O-rings, gaskets, or products at a time, often giving a result in as little as 30 minutes. Pressure, temperature and humidity change the permeability and are optionally controllable by the system over an exceptionally wide range.
The meter is easy to use, it needs no re-calibration and requires, at most, minimal training to give results that are typically accurate in the Parts Per Million (PPM) to PPB ranges.

Versaperm's permeability measurement instruments allow you to solve problems for virtually any seal, vapour, gas or application – including water vapour, hydrocarbons, solvents, greases, oxygen, CO2 and nitrogen.
The equipment allows you to understand which materials, seals, mastics or O rings are right for your individual product, application or equipment.  As well as manufacturing the instruments, Versaperm offers both a laboratory testing service and a consultancy for companies that only need to test samples on an irregular basis.
ENDS
Please send any sales enquiries to
Versaperm Ltd: 10 Rawcliffe House, Howarth Road, Maidenhead, Berkshire, SL6 1AP, UK,
e.mail: info@versaperm.com Web: www.versaperm.com
UK Tel: +44 (01628) 777668
USA Tel +1 (617) 855-7477
For Further Press Information please contact:
Gerry Palmer @ the Palmer & Rose Partnership
Tel 01494 637499 
e.mail gerry@palmer-rose.co.uk