PRESS RELEASE
The Permeability and Breathability of Footwear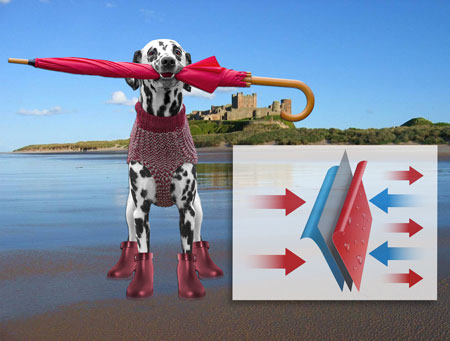 Click on the image to download a print quality scan
>
The only thing you can be sure about fashion and sports footwear is that it's always on the move.  The rush for new styles and ever higher-performance materials creates a constant need for testing the weather- and water-proof "breathability" (vapour permeability) of new and improved textiles - and that's where Versaperm's two ranges of textile permeability measurement equipment come in.

Versaperm has introduced two different instruments one to be compatible with the ISO standard and a dramatically faster instrumental system which can produce results in as little as a 30 minutes for some materials

The ISO standard (15496:2004), covering the vapour permeability of textiles for footwear, uses a traditional gravimetric technique - which usually takes several weeks to produce a single reading.  This timescale is not compatible with the needs of this fast moving market.

The instrumental system gives accuracies in the PPM range and is designed to speed product development and ensure the quality control of textiles and garments.
Weatherproof fabrics are typically plain weaves with yarns coated with a durable, water repellent finish.  Many also have a microporous or monolithic film coating or multi-layer combination.  Today, these materials are produced in massive quantities worldwide. 
As well as the instruments, Versaperm offers a fast turnaround laboratory and consultancy service for cases where a company's throughput is not high enough to warrant a dedicated instrument.
ENDS

Please send any sales enquiries to Christopher Roberts, Versaperm Limited ,
10 Rawcliffe House, Howarth Road, Maidenhead, Berkshire, SL6 1AP, UK, Tel: +44 1628 777668,
e.mail info@versaperm.co.uk Web http://www.versaperm.co.uk
For further Press Information please contact Gerry Palmer @ the Palmer & Rose Partnership. Tel 01494 637499, fax 0871 900 3898 e.mail gerry@palmer-rose.co.uk