PRESS RELEASE
The lighter side of lighter than air Airships and vapour permeability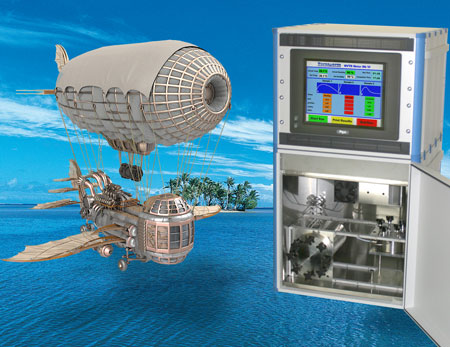 Click on the image to download a print quality scan
Surprisingly, over the past several years "seepage" of gas through the fabric of an airship has become a bigger problem than all of the usual leaks put together.  The fabrics of yesteryear have given way to a new and highly technical range of textiles and determining the vapour permeability has become a safety-critical test.
 Airships are a very ecological way to travel and have made a considerable resurgence over the last few years, due largely to improvements in technology in general along with the new generation of mass-spectrometry and other vapour permeability measurement equipment.

To ensure that developers and manufacturing concerns can accurately measure the rates at which atmospheric gases permeate into the envelope, as well as how fast helium seeps out, Versaperm has developed its Aerospace-MS permeability instrument which can measure the permeability not just for hydrogen but for virtually every other gas found in the atmosphere - including hydrocarbons, oxygen, carbon dioxide and water vapour. 
The equipment is largely automated, simple to use, fast and highly accurate - in the Parts Per Million (PPM) ranges.
Because helium molecules have the smallest molecules of any gas, they also can usually permeate through the "Gas bag" much faster - and every fabric ever made lets gas seep or permeate out to a greater or lesser extent.
Where a company's throughput is not high enough to warrant purchasing a dedicated instrument, Versaperm also offers a fast turnaround laboratory measurement and consultancy service.
ENDS

Please send any sales enquiries to Christopher Roberts, Versaperm Limited ,
10 Rawcliffe House, Howarth Road, Maidenhead, Berkshire, SL6 1AP, UK, Tel: +44 1628 777668,
e.mail info@versaperm.co.uk Web http://www.versaperm.co.uk
For further Press Information please contact Gerry Palmer @ the Palmer & Rose Partnership. Tel 01494 637499, fax 0871 900 3898 e.mail gerry@palmer-rose.co.uk