Vapour Permeabilities and Airtightness change with the Weather!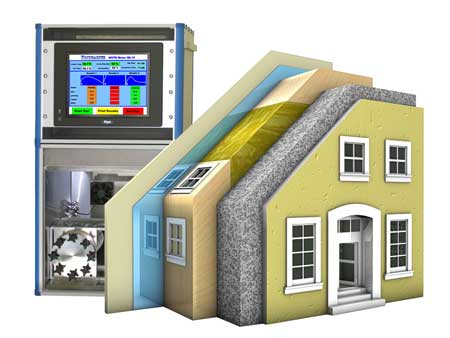 Measurements for materials and manufacturing methods
Vapour permeabilities are controlled by Building Regulations - but in the real world they can quadruple if the humidity (RH) changes from 35 to 90%.  It is critically important to allow for this during both the design and construction phases.  Fortunately, the effect can be accurately determined with measurements from Versaperm's vapour permeability equipment. And, as a bonus, you can also measure airtightness.
Publicly listed measurements for the permeability of building materials can be very inaccurate for any building, simply as the weather, construction methods, workmanship and structural design all have an impact.  However, the new Versaperm system has the ability to overcome the problem as it can measure values not only for material samples but also for actual structural units, products and designs.

Being computer automated the Versaperm vapour permeability measurement system easy to use, fast and versatile.  It produces results that are accurate in the PPM (Parts per Million) to PPB ranges.  Plus, it can simulate a wide range of environmental conditions, ranging from deep Arctic to the hottest desert and from the most arid to the wettest regions on earth.  It can even control pressure, relative humidity and simulate diurnal and seasonal cycles.

Understanding the ways building components and materials react enables legislative compliance and also can lead to reduced mould growth and rot in a building as well as lower heating and cooling costs.
Versaperm not only develops and manufactures equipment but also runs a dedicated laboratory measurement services and consultancy.
ENDS
Please send any sales enquiries to
Versaperm Ltd: 10 Rawcliffe House, Howarth Road, Maidenhead, Berkshire, SL6 1AP, UK,
e.mail: info@versaperm.com Web: www.versaperm.com
UK Tel: +44 (01628) 777668
USA Tel +1 (617) 855-7477
For Further Press Information please contact:
Gerry Palmer @ the Palmer & Rose Partnership
Tel 01494 637499 
e.mail gerry@palmer-rose.co.uk