Vapour Permeability and
"wonder materials" - Epoxies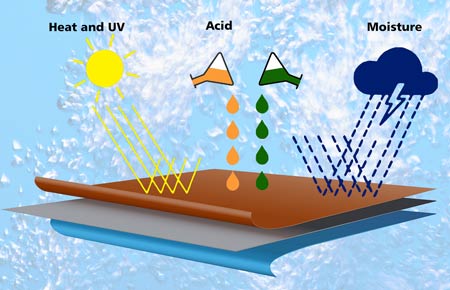 Epoxies are one of the world's modern "Wonder materials" and are used extensively* for bonding, sealing, coating, encapsulating.  They can also form lightweight, high strength materials even for extreme conditions such as aerospace and turbine blades.  In many of these applications one of their most critical properties is their vapour permeability which controls or the flow of water vapour, oxygen, CO2 and every other gas.

Versaperm has developed equipment that can measure this critical vapour permeability in all of these applications (and more).  It works not just for flat samples but also finished components, multi-layer laminates, coatings and enclosures.

The Versaperm vapour permeability measurement system is versatile, fast, simple to use and accurate in the PPM (Parts per Million) to PPB ranges.  It uses a mass spectrometer, enabling it to measure vapour permeability for every gas or vapour in general use including water vapour, oxygen, hydrocarbons, CO2 and solvents.

This gives developers and manufacturers the ability to test their products and determine the epoxy composition that gives them the precise combination of properties they need for their application.  Epoxy materials i sometimes need to operate in extreme conditions, the Versaperm equipment can optionally operate at temperatures from -80C to +1100C and from pressures from 0 to 300bar.

In packaging epoxies can reduces the degradation of foods and pharmaceuticals, they protect electronics, have very good electrical, chemical resistance, adhesive, and insulating properties.
As well as developing and manufacturing the equipment the company runs consultancy and laboratory services that offer advice on permeability in complex cases or where the volume or logistics do not mandate a dedicated instrument.
ENDS
* The market size for epoxies is worth well over $8B per year
Please send any sales enquiries to
Versaperm Ltd: 10 Rawcliffe House, Howarth Road, Maidenhead, Berkshire, SL6 1AP, UK,
e.mail: info@versaperm.com Web: www.versaperm.com
UK Tel: +44 (01628) 777668
USA Tel +1 (617) 855-7477
For Further Press Information please contact:
Gerry Palmer @ the Palmer & Rose Partnership
Tel 01494 637499 
e.mail gerry@palmer-rose.co.uk