Agricultural Pest control
The vapour permeability of solarization sheeting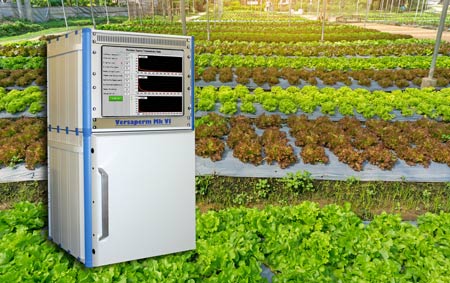 Solarization and biosolarization are soil disinfestation and enhancement techniques that weaken or destroy bacteria, fungi, weeds, mites and insects.  They work by covering the soil with a tarp, such as a thin agricultural plastic film, to raise the soil temperature and create an atmosphere by preventing the escape or ingress of gases, such as water vapour and oxygen. The need to control the flow of these gases can be critical to the process and that's where Versaperm can help.
Versaperm is a world leader in the complex technology of vapour permeability management and measurement and the company's multi-gas mass-spectrometry based system can measure the permeability of a tarp for each individual vapour in one go with just a single measurement.

The Versaperm MS system is designed for both product development and quality control and can test any material, tarp, film or laminate.  It typically gives an accuracy in the PPM (Parts Per Million) to Parts Per Billion (PPB) range.

Vapour permeability regulates the way moisture, oxygen and other gases are kept in or out of the soil.  The technique does not sterilize the soil completely but enhances it towards promoting beneficial microorganisms.  It can kill up to 90% of pathogens whilst beneficial bacteria like Bacillus can survive and flourish.

The system can deal with all standard materials as well as any tarps, even with laminated and compound constituents. 

Versaperm also offers a consultancy service and a permeability laboratory service for companies that only need to test samples on an irregular basis.
ENDS
Please send any sales enquiries to
Versaperm Ltd: 10 Rawcliffe House, Howarth Road, Maidenhead, Berkshire, SL6 1AP, UK,
e.mail: info@versaperm.com Web: www.versaperm.com
UK Tel: +44 (01628) 777668
USA Tel +1 (617) 855-7477
For Further Press Information please contact:
Gerry Palmer @ the Palmer & Rose Partnership
Tel 01494 637499 
e.mail gerry@palmer-rose.co.uk