Extending (dramatically) the life of cosmetics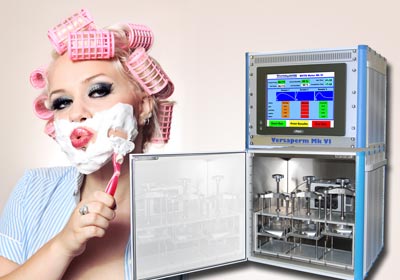 Click on the image to download a print quality scan
With the traditional role of glass packaging being over-taken by new materials such as flexible plastics, different factors become critical in maintaining a cosmetic's properties over time. Not only must new containers have excellent marketing potential, but they must also be technically outstanding. They need to keep aromatic volatiles in, but water and oxygen out to prevent the growth of micro-organisms. They also need to preserve the cosmetic's delicate unsaturated lipid bonds, which easily turn rancid creating unpleasant smells.
The key lies in the barrier properties of the packaging. And that's where Versaperm can help with its technology-leading permeability measuring instrumentation. The equipment can measure both the permeability of the packaging material and of the finished container - which can easily be over four times less effective due to the manufacturing process.

Versaperm's meter allows the most appropriate materials and manufacturing processes to be chosen and quality checked. The system can be configured for water vapour, as well as Oxygen, solvents, aromatic volatiles and most other gases.
Accuracy is easy to achieve and is typically in the parts per million range, (parts per billion for some gases and materials). The permeability is critical not just in preserving the cosmetics, but also for marketing factors such as the printability of the product.
The meter can be used on an exceptionally very diverse range of materials and containers including bottles, tubs, tubes, sachets, foils and laminates. It can be used for product development and quality control. Versaperm also offers a consultancy and a permeability laboratory service for companies that only need to test samples on an irregular basis.
ENDS

Please send any sales enquiries to Christopher Roberts, Versaperm Limited ,
10 Rawcliffe House, Howarth Road, Maidenhead, Berkshire, SL6 1AP, UK, Tel: +44 1628 777668,
e.mail info@versaperm.co.uk Web http://www.versaperm.co.uk
For further Press Information please contact Gerry Palmer @ the Palmer & Rose Partnership. Tel 01494 637499, fax 0871 900 3898 e.mail gerry@palmer-rose.co.uk.