Helium testing - it's a gas!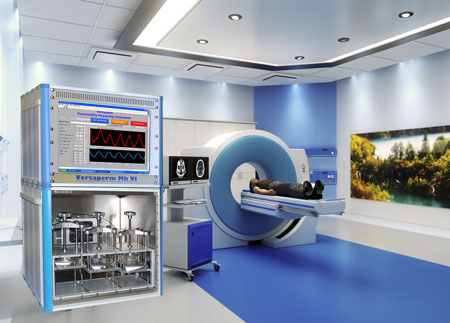 Helium is increasingly important to modern lives – it's used from MRI scanners to airship textiles, and from arc-welding to satellites, pressurized fuel tanks rockets, wind tunnels and even party balloons. However, supply is increasingly uncertain and helium is exceptionally good at permeating through containers and escaping.

Measuring and ultimately controlling this characteristic requires testing, the way to do to this is with Versaperm's Helium Permeability meter, which can measure to an accuracy in the parts per million (PPM) to PPB range.  Results are precise and highly repeatable.

The system measures the permeability of both flat sample materials such as laminates, films, textiles as well as fully formed components, finished products and enclosures and can work on several samples at time.  It has a simple to use automated control panel with a large touch-screen interface and needs little re-calibration and only minimal training. 

Absolute safety is critical, especially in the medical and aerospace industries - and vapour permeability is critical to that safety.  Not just for gasbags but for MRI, fuel systems, seals, electronics, hydraulics, refrigerants and much more.

Versaperm's mass spectrometer-based option can measure vapour permeability for all of the non-proscribed gas or gas mixtures used by industry.  It operates across a wide range of pressures, partial pressures, temperatures, and even into supercritical areas. 
As well as designing, manufacturing and supplying the equipment to aerospace and Standards agencies around the world, Versaperm offers a laboratory testing service and consultancy services.
ENDS
Please send any sales enquiries to
Versaperm Ltd: 10 Rawcliffe House, Howarth Road, Maidenhead, Berkshire, SL6 1AP, UK,
e.mail: info@versaperm.com Web: www.versaperm.com
UK Tel: +44 (01628) 777668
USA Tel +1 (617) 855-7477
For Further Press Information please contact:
Gerry Palmer @ the Palmer & Rose Partnership
Tel 01494 637499 
e.mail gerry@palmer-rose.co.uk