Implantable and wearable electronics
The problem and a new solution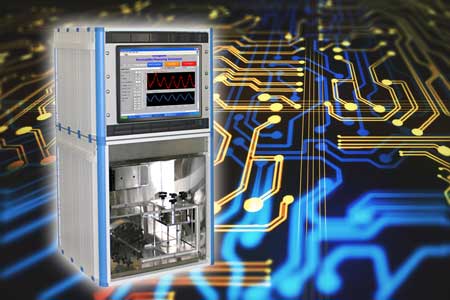 The rapidly growing volume of implantable, wearable and even ingestible electronics bring with them a problem.  Biocompatible polymers are used to encapsulate them but water or ions can still permeate through to the circuit board causing corrosion, leakage current and device failure.

Sadly, this is not as easy to prevent as it sounds as water and other vapours can permeate through most plastics, and once inside they condense and become trapped. The solution is creating and testing new multi-layer materials, with different layers providing different properties to the mix., such as strength, O2 or H2O vapour resistance.  This is where Versaperm's latest mass-spectrometer based vapour permeability testing meter becomes vital.

The system is fast, accurate and easy to use, whereas conventional gravimetric testing is complex and can take weeks to achieve a single result.  Along with measuring water vapour permeability, the Versaperm system can determine the permeability for oxygen, hydrogen, CO2 and all other gasses and vapours – all at the same time!  These include the vapours produced by the area around the implant itself.

Versaperm's system can measure the vapour permeability not just of polymer and multilayer encapsulations, but also of skin, tissue samples, ingestible capsules, tubes, and other barriers.  Accuracy is typically in the PPM (Parts Per Million) to Parts Per Billion range.

Environmental conditions such as temperature and pressure can optionally be controlled and the system offers multichambered devices enabling it to perform multiple measurements at the same time. The Versaperm system is ideally suited to both product development and quality control environments. 

The company also offers both a consultancy and a permeability laboratory service for developers and packers that only need to test samples on an irregular basis.

ENDS
Please send any sales enquiries to
Versaperm Ltd: 10 Rawcliffe House, Howarth Road, Maidenhead, Berkshire, SL6 1AP, UK,
e.mail: info@versaperm.com Web: www.versaperm.com
UK Tel: +44 (01628) 777668
USA Tel +1 (617) 855-7477
For Further Press Information please contact:
Gerry Palmer @ the Palmer & Rose Partnership
Tel 01494 637499 
e.mail gerry@palmer-rose.co.uk